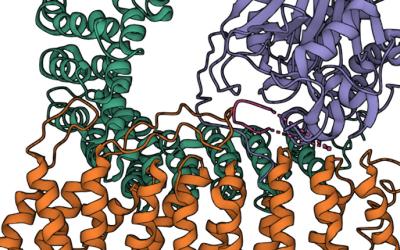 PP2A as a novel immunotherapy target
PP2A a ubiquitously expressed serine/threonine phosphatase with multiple effects on both cancer and immune cells. Previously, we showed that the pharmacological inhibition of Protein Phosphatase 2A (PP2A) enhances the antitumor efficacy of anti-PD-1 antibodies in PD-1 blockade-resistant melanoma, colon and glioma tumor models. These findings have led to a phase II clinical trial testing PP2A inhibition as a single agent for recurrent GBM to assess the degree of drug penetration into brain tumor (NCT03027388). PP2A is a holoenzyme that include scaffolding subunit (A), regulatory subunit (B) and catalytic subunit (C), that can lead to numerous combinations. Currently, we are investigating specific PP2A complex in different immune or cancer cells, with the goal to develop precise targeting strategy against this enzyme. 
Related publications:
Maggio D, Ho WS*, Breese R, Walbridge S, Wang H, Heiss JD, Gilbert MR,Kovach JS, Lu R*, Zhuang Z*. Inhibition of protein phosphatase-2A with PD-1 blockade enhances antitumor immunity and survival in glioblastoma.  Journal of Neuro-Oncology  J Neurooncol. 2020 Jun; 148(2): 231–244.
Ho W, Wang H, Heiss J, Gilbert MR, Lu R, Zhuang Z. Pharmacological inhibition of protein phosphatase-2A, with novel inhibitor LB-100, achieves durable immune-mediated antitumor activity when combined with PD-1 blockade. Nat Commun. 2018 May 29;9(1):2126.